Welcome to the Christiano Racing Homepage, Mark currently drives the #02 sprinter, while teammate Curt Sherwood drives the #02x sprinter on the VSM Abrasives Southern Ontario Sprints trail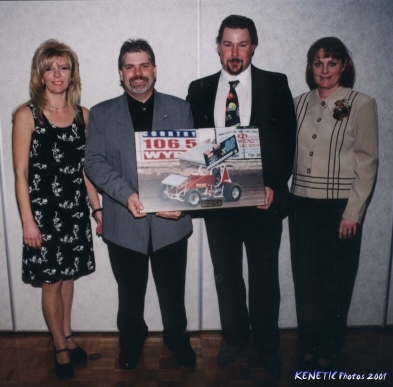 (L-R, Roberta Sherwood, Curt Sherwood, Mark Christiano, Gayle Christiano)
Mark and Curt would like to thank all of their family and friends for all of their support throughout the 2001 season. Without the support of wife Gayle and daughter Stephanie it would not have been possible for Mark to maintain 2 cars throughout the season. Curt was able to count on the loyal support of his wife Roberta, his son Brandon and daughter Kalleigh on his way to the 2001 Rookie of the Year title.
Mark and Curt would also like to thank all of their sponsors for the 2001 season for their support, a special thank you goes out to A T& A Trucking.
CHRISTIANO RACING
Christiano Racing is making their assault on the VSM Abrasives Southern Ontario Sprints as a two car team. Team owner Mark Christiano as well as DIRT veteran Curt Sherwood will be wheeling the familiar #02 and #02X on the many tracks of the SOS tour. Sherwood is making an attempt to capture the Rookie of the Year championship and is already well on his way having picked up 2 top 5 finishes and a heat race win while Mark is looking for his first career SOS feature victory.
E-Mail the webmaster: canmmp@hotmail.com